I can't tell you how much Arthur and Chelsea's wedding reminded me of the one in the movie Father of the Bride. Everyone was getting ready at Chelsea's home and the reception was held there, too. Chelsea's dad was running around making sure everything was in the right place and I couldn't help but think of Steve Martin getting ready for his daughter's wedding. I had been to the Ferguson's home for Arthur and Chelsea's engagement session, and since then Chelsea's parents had built a patio/dance floor, planted beautiful flowers all around and had everything ready for a gorgeous home wedding. The morning of the wedding day it was raining (nooooooo!) and plans quickly changed to include tents and to move the reception inside the Ferguson's home. I don't know how they pulled it off so well but it was amazing. Much thanks to the wedding coordinator and friend Ms. Dale for making this happen! And yet as it turns out, the rain stopped and we got a beautiful outdoor reception and dancing with the most amazing greenery backdrop and farm animals and even a few moments of sunshine.
It was so meaningful to see Chelsea getting ready and walking in the hallway between her parent's room and her bedroom, filled with everything from her childhood. The hallway walls were decked with pictures of Chelsea and her sister, from their beanie baby phase to high school proms and pageants. I got a quick shot of Chelsea walking down the hall with childhood portraits next to her:)
One of Chelsea's bridesmaids had the best idea of how to protect Chelsea's dress from getting dirty from the wet ground- cutting a hole in a fitted sheet! Chelsea's mom got a fitted sheet and the bridesmaids had a hole cut in the middle and Chelsea walked around with her feet through the sheet, holding the dress inside the sheet until we took pictures and hid it under her dress. By far the best idea I have seen yet for ways to get pictures outdoors while not getting her dress messed up! Check out this fabulous sheet picture below:)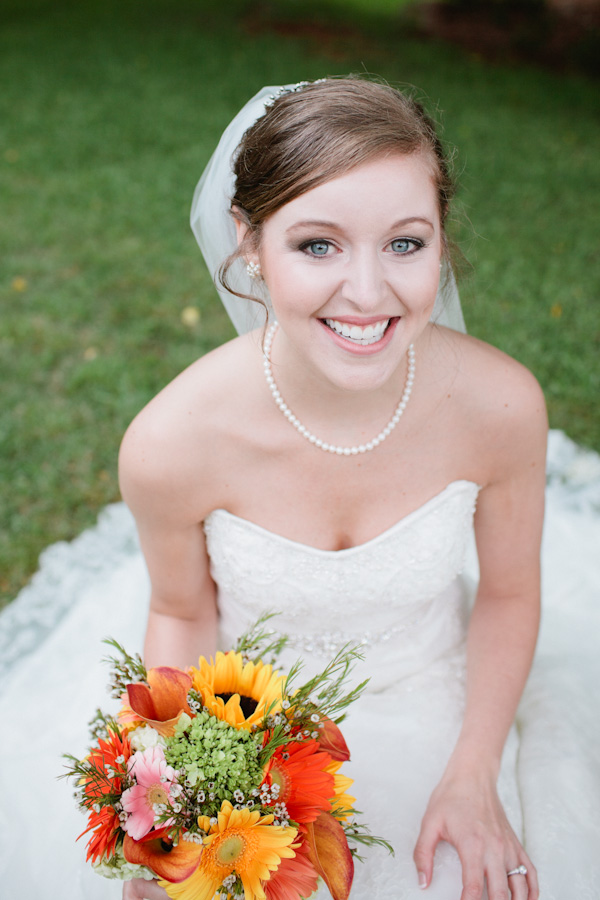 Chelsea and Arthur got to ride in not one but two amazing cars- one from the church to the reception and one that they rode off on their honeymoon in. The first was an incredible Bel-Air in perfect condition, and the second was a orange (in honor of Auburn) convertible Corvette. These cars were so fun to photograph!
Arthur and Chelsea included both Jewish and Christian customs into their wedding ceremony. The Chuppah is the canopy they stood under, and is meant to represent the home the couple will build together. One really neat thing I read about the Chuppah is that this "home" doesn't have furniture in it as a reminder that the basis of a home is the people in it and not the possessions inside of it. Also the canopy is meant to represent the presence of God over the covenant of marriage. How beautiful is that!!
Arthur and Chelsea were sent off with streamers and a police escort, including flashing lights and sirens so everyone in LaGrange would know there was a celebration. This was such a beautiful and meaningful wedding- I am so glad I got to be a part of it. Best wishes Mr. and Mrs. Zimmerman!